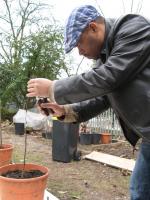 Mahmud grafting at Edible Landscapes LondonWe focus on increasing the amount of edible planting in the area, on public land. If you're inspired by any of our projects (listed below), why not get in contact or come along to one of our events?
OUR PROJECTS
EDIBLE LANDSCAPES LONDON LTD perennial plant nursery N4 2DE here
GLOUCESTER DRIVE / GREEN LANES here
HARRINGAY GREEN LANES STATION: Harringay Harvest N4 1DR here
JAMBOREE PLAYHUTS: Finsbury Fruits N4 2AA here
JOHN SCOTT HEALTH CENTRE: The Doctor's Plot N4 2NU here
PARKWOOD PRIMARY SCHOOL N4 2HQ here
ST JOHNS CHURCH on Gloucester Drive, N4 2LW here
STROUD GREEN LIBRARY Knowing Thru Growing Quernmore Road, N4 4QR here
We also have our eye on a plot of land next to 25 Rock Street, Amwell Court estate, Kings' Crescent Estate, Portland Rise estate and Mydletton Estate - Tanya is working with others from the estate to increase local growing. She organised a community event as part of Big Lunch on in 2009 and 2010 and now is investigating a toddler's group / gardening group that could take place in the community centre.
We are project focused but occasionally run meetings. Check the event page to find out where we'll be and what we're doing.