Challenge VolunteersOn Sunday 11th September a group of hardworking teenagers from The Challenge came to help out at ELL. Although initially reluctant to take part in some of the jobs, the volunteers soon got stuck in and helped create a new edible hedge and build a work bench out of old wooden pallets.

getting stuck in

woodworking with FrankieFrankie Agnew from Transition Finsbury Park said, "Great experience seeing a group of teenagers work together and whilst preserving their immaculate grooming (a lot of them covered their footwear in plastic bags) get stuck in, shift compost, whittle wood, and plant trees in the hedgerow...a great example of valuable exchange between the generations......thanks." He was the mastermind behind the new bench design and he also showed the 16 year olds how to cut and join timber using 100% hand tools.

border preparation

sharpening stakes
Jane Howson oversaw much of the work on the hedgerow and was also very impressed by how hardworking they were.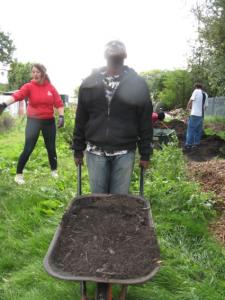 This is some of what they did:
reinforced the retaining wall for the bed by laying on wood and driving in stakes on the outside
creating new stakes by sharpening old wood, using knives
laid down cardboard to create a weed barrier
moved several loads of soil using a wheelbarrow
filled up the bed with compost
planted blackthorn, hawthorn, currants and crabapple through the cardboard
watered in the plants by transporting water from the water butt with watering cans.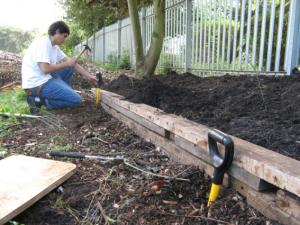 IvanThe students were with us for the whole day taking just a short break for lunch. They are very welcome to come back any time and see the long term results from their hard work.